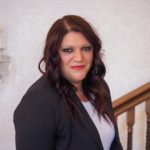 Ashley Westfall is a Paralegal at Gavin Law Offices, involved in trademark prosecution and management and maintenance of client trademark portfolios.  Her duties include assisting with trademark preclearance; filing of new trademark applications, trademark maintenance and renewal filings, and intent-to-use filings; and preparing various client correspondence.  She also assists with review of watching notices and preparation of Domain Name Disputes with the World Intellectual Property Organization.
Ashley comes to Gavin Law Offices with a background in customer service, office management, and legal assisting as well as an education in Paralegal Studies.  Throughout her career, Ashley has assisted in preparation of motions and other various pleadings to be filed in Virginia Courts.  She has also assisted with real estate closings, deed preparation, and estate planning.
In her spare time, Ashley enjoys traveling and spending time with her family.