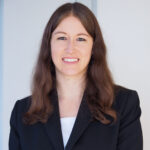 Rina is a Partner at Gavin Law Offices with an intellectual property law practice focused on trademark, copyright, domain disputes, and contracts and licensing agreements. Her responsibilities include managing large clients' trademark portfolios, trademark preclearance, advising on brand strategy, and drafting trademark applications and seeing them through to registration and beyond. Rina represents clients in adversarial matters before the U.S. Patent & Trademark Office, the Trademark Trial and Appeal Board, federal courts, and the World Intellectual Property Organization. Rina is particularly experienced with copyright registration and infringement matters, as well as the Digital Millennium Copyright Act. Rina also drafts and negotiates various contracts such as terms of use, design and production services agreements, and settlement agreements.
Rina graduated from the University of Richmond School of Law, where she concentrated on Intellectual Property law and earned University of Richmond's Intellectual Property Certificate. A John Marshall Scholar and member of the prestigious Order of the Coif, Rina also served as the Lead Articles Editor of the University of Richmond Law Review. While in law school, Rina extensively researched corruption in the Olympics and the implications for the 2016 Rio Games, co-authoring an initial essay in 2014 as well as a final report published in spring 2016.
Before pursuing her law degree, Rina worked in publishing for nearly 10 years. After working as a writer, editor, and graphic designer at a number of newspapers, she quickly worked her way up to Creative Director & Senior Editor at Ranch & Coast Magazine, a monthly lifestyle publication in San Diego, California. Rina's wide-ranging responsibilities included writing and editing a variety of content, designing and building the final magazine each month, managing the website, and working closely with advertising clients.
When not practicing law, Rina enjoys reading, traveling, and photography.
Education:
University of Richmond School of Law, Juris Doctor, 2015,

magna cum laude,

Intellectual Property Certificate

Bucknell University, Bachelor of Arts in English, 2008
Professional Affiliations:
Virginia State Bar

Greater Richmond Intellectual Property Law Association member and past President
Publications:
Co-authored:

From the 2014 World Cup to the 2016 Olympics: Brazil's Role in the Global Anti-Corruption Movement

, 21 Sw. J. Int'l Law 71 (2014).

Co-authored: Rio 2016 and the Birth of Brazilian Transparency, in Transparency International, Global Corruption Report Sport (Gareth Sweeney ed., 2016).
Co-authored: Trademark: A Rose by Any Other Name…, Virginia Lawyer, April 2016, at 14-18.