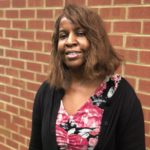 Isabella Aradi – Senior IP Paralegal
Isabella Aradi joined Gavin Law Offices with an extensive background in Intellectual Property.
Isabella has worked at the law firms of McGuire Woods, LLP and Williams Mullen assisting attorneys with filing trademark and service mark applications for registration with the United States Patent and Trademark Office and internationally via a large network of foreign agents.  In addition to filing, prosecuting and maintaining domestic and foreign marks, she has handled a large trademark portfolio of Madrid Protocol trademark filings at Gavin Law Offices through International Bureau of the World Intellectual Property Organization (WIPO).
She has also prepared numerous owner Name Change and Assignments for recordation with the USPTO and filed Copyright applications for registration with the U.S. Copyright office.
Ms. Aradi has assisted in the prosecution and maintenance of large trademark portfolios and management reporting.  She has held sole responsibility for docketing and maintaining a Trademark Database containing thousands of trademarks.  She also reviews watching notices and conducts preliminary investigations into problematic marks.
Isabella has extensive experience in global trademark filings, prosecution and maintenance.  She coordinated the filing, prosecution and maintenance of thousands of Trademarks for Wyeth (now Pfizer), a pharmaceutical 500 Fortune company, for five years.
In addition to Intellectual Property work, Isabella has assisted attorneys in preparing responses to interrogatories and other discovery issues in a long-term project relating to complex litigation in a multi-jurisdictional litigation for one of the largest law firms in the Southeast, Hunton & Williams LLP.
Isabella is very familiar with the Virginia court system and has prepared motions and other pleadings for filing with the General District Courts, Circuit Courts and the Court of Appeals of Virginia.
Isabella has a Bachelor's Degree and a Paralegal Degree (Summa Cum Laude).