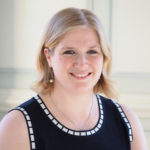 Kat is a Partner at Gavin Law Offices, handling a wide range of matters including trademark prosecution and enforcement, contractual and transactional legal matters, entity formation, copyright prosecution and enforcement, and domain disputes. Kat graduated from the University of Richmond School of Law, where she concentrated on Intellectual Property law and earned University of Richmond's Intellectual Property Certificate.
While in law school, Kat worked as a Student Law Associate in the University of Richmond Intellectual Property & Transactional Law Clinic. In this position, she assisted several clients pro bono with their entity formation, trademark prosecution, and nonprofit formation. She was also a member of the Student Intellectual Property Association. She also participated in a special seminar (with Ms. Van Orden) researching corruption and efforts to combat corruption in Brazil leading up to the 2016 Rio Olympics. This seminar produced an initial essay in 2014 as well as a final report published in spring 2016.
Kat began her legal career at Gavin Law Offices in 2006 as an intern when not in school. She also worked as an administrative assistant at GLO, as well as a legal intern, finally achieving the final evolution into an associate after passing the Virginia State Bar. She has also worked for a brief stint in the Virginia General Assembly as a page to Senator Walter Stosch, and as an intern in the Law Library of Congress. While at the Law Library of Congress, she co-presented "Legal Clean-up on Aisle 4!" to fellow law librarians as well as to the general public. After a period working as a Russian translator for the School of Russian and Asian Studies in Moscow in 2012, Kat returned to the world of law.
Education:
University of Richmond School of Law, Juris Doctor, 2016, Intellectual Property Certificate
College of William and Mary, Bachelor of Arts in Russian and Post-Soviet Studies, 2012
Publications and Presentations:
Presenter: Post-Soviet Television: Global Formats and Russian Power, 'Between Sodom and Madonna:' Blurring the Binaries in My Fair Nanny' (2011)
Co-presented: Legal Clean Up in Aisle 4!, Law Library of Congress (2012)
Co-authored: From the 2014 World Cup to the 2016 Olympics: Brazil's Role in the Global Anti-Corruption Movement, 21 Sw. J. Int'l Law 71 (2014)
Co-authored: Rio 2016 and the Birth of Brazilian Transparency, in Transparency International, Global Corruption Report Sport (Gareth Sweeney ed., 2016)
Presenter: Greater Richmond Intellectual Property Law Assocation: 'Spilling the NFTea: What IP Lawyers Need to Know about Cryptoassets' (2022)