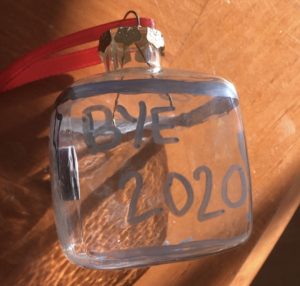 As the year comes to a close, our team has Christmas on the mind. 
The holidays feel like an extra important time to show appreciation for one another and have some fun, especially considering the unforeseen circumstances of this year. Although we can't be together like usual, we've still found ways to connect over our favorite aspects of the most wonderful time of the year. 
For our first Christmas themed virtual meeting, we decorated glass ornaments with metallic sharpies. One of the common phrases that we chose to adorn them was "Goodbye 2020." We recently competed in a game of Christmas trivia where Kat Gavin took the honor and bragging rights of most correct answers. Questions included fun facts from popular movies as well as the origins of our modern-day traditions. To wrap up – pun intended – we will celebrate with a virtual white elephant gift exchange, thanks to the help of one of Santa's elves. New Year's happy hour will help us close out 2020 and welcome in a new chapter. What about you? We'd love to hear about any of your creative holiday festivities!  
In addition to spending time remotely to help celebrate, we also found out our team's favorite aspects of Christmas! There are some similarities and some surprising some outliers.  
Kat Gavin 
Movie: Rudolph the Red Nosed Reindeer or It's a Wonderful Life 

 

Song:

 The Christmas Song by Nat King Cole 

 

Dish: Southern Grits Casserole and Monkey Bread 

 

Treat/Dessert: Peppermint Bark and Hot Cocoa 

 

Tradition/Activity: Decorating the Tree

 
Elizabeth Sewell
Movie: Christmas Vacation 

 

Song: Santa's Coming in a 

Whrily

 Bird by Gene Autry 

 

Dish: My Mom's Shrimp and Grits 

 

Treat/Dessert: Homemade 

Christmas

 Cookies 

 

Tradition/Activity: Putting up the tree with my kids 

 
Pam Gavin 
Movie: Titanic 

 

Song: Somewhere Over the Rainbow 

 

Dish: Pasta 

 

Treat/Dessert: Fruit Cake 

 

Tradition/Activity: Everything Christmas! 

 
Rina Van Orden: 
Courtney Reigel: 
Movie: Elf and Home Alone 

 

Song: The Christmas Song 

 

Dish: Ham 

 

Treat/Dessert: Christmas cookies 

 

Tradition/activity: Christmas movies/decorating 

 
Lastly, the most contentious of Christmas opinion: Does the GLO team consider Die Hard a Christmas Movie? The majority voted: No, Die Hard is not a Christmas movie. What do you think?
 – Lily Taggart