It's no secret that Virginia loves a good brew. Virginia boasts an impressive selection of craft breweries and cideries, with more than 30 breweries in Richmond alone! But, did you know that several other states have an even higher proportion of breweries per capita? Vermont, Maine, and much of the Pacific Northwest carry an even denser selection of craft beer.  With so many small and mid-size independent brewers emerging in Virginia and across the country, it's important for those in this increasingly competitive industry to understand their intellectual property rights. This National Beer Day, we wanted to share important legal considerations for those in the industry.
Our legal team tailors our established expertise in the field of intellectual property to assist in the protection and success of brewery-specific concerns.  From business formation to naming your brews, to protecting specialty artwork and maintaining local partnerships we offer assistance so you can focus on your craft.
Trademark Law:
How much have you attached to your brand's name and logo? A trademark represents all the hard work you have put into your business and sets you apart in the field.  We can assist you with protecting your business/brewery name, beverage names, and taglines or slogans and enforce your rights in the same.  It is important to take steps to solidify your brand and ensure that your product is not confused with others.  Additionally, working with counsel prior to using a new trademark can help protect you from infringing upon others' rights, and could avoid a costly infringement scenario.
Trade Secret Law:
How important are your recipes to your business? The recipes for your unique ciders and brews are only as valuable as they are kept in confidence. Trade secrets can be vital to a company's survival, and are often among a business's most valuable corporate assets.  Failing to properly protect trade secrets (for example, by filing a patent for a recipe that then discloses the details to the public) can prove disastrous for businesses.  Trade secret law provides an avenue to protect your valuable intellectual property while allowing it to be kept secret and potentially protected forever (while a patent only lasts for 20 years, a trade secret will last for as long as it is kept secret). Fortunately, there are measures you can take as well as policies and contractual provisions we can help you put in place to help protect your trade secrets.
Copyright Law:
Do you have artwork on your label? Did an artist create your logo or website? Alcohol brands dabble in copyright law more than you may expect. Brands should recognize the importance of filing and registering copyrightable subject matter to protect their hard work. Copyright registration and strong contracts and/or copyright assignments when necessary can help avoid preventable issues such as ownership disputes and infringement actions.  For example, under copyright law the author of the artwork, logo, website, etc., could own that material instead of the business unless the business has agreements in place that state otherwise. Our team can help ensure rights to commissioned works are transferred appropriately and provide the best copyright enforcement approach.
Licensing Law:
Do you want to partner with a local bakery for a wheat beer? How about a local coffee place for a stout? These kinds of deals can involve the sharing of proprietary information, and the parties may need to obtain permission to use the other's trademarks and/or copyrights to market the product. Ensuring that proprietary information is kept confidential, and that certain guidelines are followed by the other business using your trademark, are smart measures to take.
Contract Law:
One of the best ways to safeguard against the various intellectual property issues mentioned above, as well as other legal issues impacting breweries, is a well drafted contract. Do your existing contracts cover all the bases with your vendors, business partners, or other third parties? How about your employment agreements?  Are they protective enough of your company in the event of a disgruntled employee? Thinking through these issues and contacting an attorney for assistance is not cynical – it's a smart step towards safeguarding your business and ensuring its success.  Companies in the alcohol industry have significant need of contracts due to the many moving components needed to operate, and there is no one-size-fits-all contract.  Notably, brewers conducting business in certain states including California and Virginia should consider whether data privacy laws apply to their businesses that may impact their contractual requirements (The forthcoming  Virginia Consumer Data Protection Act may affect your business, which you can learn more about here.)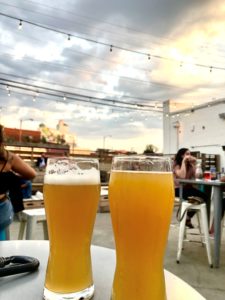 This National Beer Day, we would like to raise a glass to the love and dedication that Virginia brewers pour into their craft.  Craft breweries, cideries, and wineries in any state should explore how considering these legal issues and putting protections in place can benefit their business. No matter what your specialty is, we want to help you protect it.
(This blog post is not intended as legal advice.  Please contact us for more information and assistance regarding your particular situation.)