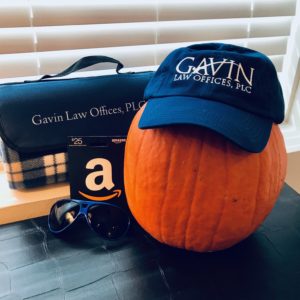 Happy October, friends of Gavin Law!  This month we want to educate you guys about something near and dear… to the heart of copyright law- the idea-expression dichotomy!  I see your eyes have glazed over.  Keep reading, there are pumpkins ahead, and a prize!
This Halloween, it's likely that you and your friends and/or family will be carving pumpkins.  Maybe you are a very crafty person and are able to carve an elaborate parody of a movie that came out this year.  Maybe, like me, you're going to stick with a modest challenge of a black cat or a spider.  Or maybe, you'll go for the classic, a scary pumpkin face.  In copyright law, the idea of a cat, or a spider, or a face, cannot by itself be protected.  However, when the carver expresses their version of this idea onto the pumpkin, that design can be protected. 
The main concept to take away here is really that you cannot protect ideas, but rather how you express those ideas in a tangible way.  The reason for this is because humans are fascinating and can interpret one idea in millions of different ways.  If you want to write a story about the idea an orphan who saves the world, you could end up with Harry Potter or Star Wars.  
For Halloween, we are going to challenge you.  Our IDEA- the classic pumpkin face.  Give us your goofiest, most creative, scariest pumpkin and you will have the chance to win a $25.00 Amazon gift card.  That should buy you enough candy to restock your house after the trick or treaters come by.  We at GLO will vote on our favorite pumpkin and get back to you.  Send us those pictures!  Or ask us more about copyright law, if you want.