Written by: Mari Kat Gavin
Art and intellectual property law intersect in many obvious ways—intellectual property is, after all, the protection of human creation. However, copyright normally gets a lot of the spotlight. There is art in trademark law, don't get me wrong. Andy Warhol's series on consumer products are some of the most well-known works of art incorporating brands, and additionally commenting on them. However, I find that I less often find incorporation of trademarks in art that aren't a commentary on consumerist culture.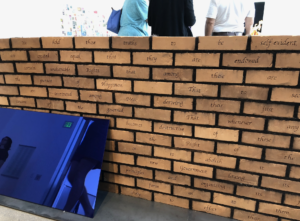 This month, I was fortunate enough to encounter such a piece at the VCU Institute of Contemporary Art. In the Declaration Exhibit, I found the piece Edifice and Mortar by Sonya Clark. Clark used the unusual mediums of brick, hair donated by local Richmond barbers, and a blue glass mirror. She created a rectangular shape out of bricks and then incorporated the blue mirror so as to represent a subverted American flag. She then imprinted a portion of the Declaration of Independence on the front and TRADEMARKS on the back.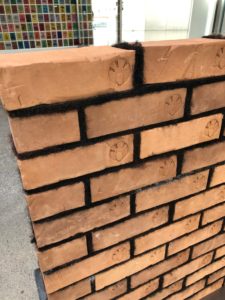 Okay, I'm getting ahead of myself. The words imprinted onto the back of the "flag" was not what you would consider a modern day trademark. However, trademarks are the oldest form of intellectual property, some say back to Roman times. Artisans would stamp their "mark" into goods that they had a hand in producing. Consumers could see these branded goods and be sure of the quality of the good that they would receive, because trademarks are, at their essence, an indicator of source. The twist here, is that the bricks reveal stamps that say "El Schiavo", Italian for "Slave".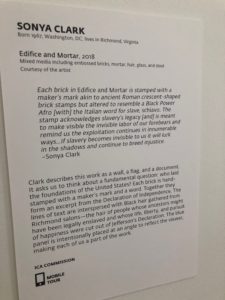 This piece successfully integrates the concept of trademark law and consumer protection into a beautiful commentary on society, which often ignores the monumental part that slaves played in building our nation. This is especially poignant in Richmond, the second largest slave importation city in the nation during the time of slavery. Looking back to the mediums used, the hair donated by local Richmond barbers is very likely hair from descendants of slaves. Kudos to Clark for creating such a thought-provoking piece.