Candy, flowers, and even heart-shaped pizzas

 may come to mind when preparing for the 14

th

 of February.

 
But where do these traditions come from? How are Americans celebrating this year? Here's some fun facts about Valentine's Day:  
Not surprisingly, the Legend of St. Valentine bears little resemblance to our modern celebrations. It is alleged that before his death, St. Valentine signed a letter to his love with "From your Valentine." 

The Greeting Card association estimates that 145 million Valentine's Day Cards are sent every year, second only to Christmas.
A somewhat polarizing celebration among Americans, only around half of U.S. adults will celebrate Valentine's Day this year, according to

statista.

 
Recognized by many as a celebration of love, Valentine's Day in the United States also represents major economic activity. In total, consumer spending on Valentine's Day in the U.S. is expected to total 21.8 billion dollars this year. This is quite a large number, but is actually significantly less than years prior due to the COVID-19 pandemic. Dining-out options represent another likely change for this year. More people will be celebrating with a night in or ordering take out rather than a traditional date night. 
If you're looking for last minute gifts or activities, here are some options:
Gift cards for a favorite local business. With economic uncertainty, now

 i

s an extra important time to spread some 

love

 and support

 to the local community

. 

 

DIY "coupons." Make slips of paper with activities to give to your loved one to redeem when they wish. These could be thoughtful gestures like serve breakfast in bed or playful options such as watch your (terrible) show, set thermostat to your (freezing) setting, and load dishwasher your (wrong) way. Not

 

only are these coupons an

inexpensive

 option

,

 

they

 

can

 

also 

really 

come from the heart as you

 personalize

 them

 

and add some levity to pandemic life! 

Virtual "Palentine's" party! Single? Complicated?

No worries! This time of 

year

 isn't just for 

romantic

 love

 

– 

set up a call with friends to watch

 

cheesy

 rom-

coms, share embarrassing date stories, 

test out a cat filter, 

and

 

snack on everything 

heart-shaped

.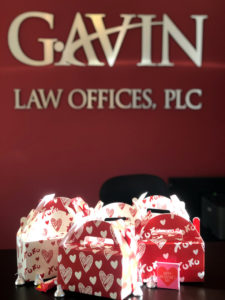 This year we were inspired by Valentine's celebrations of our youth and set up small treat boxes in the office. Everyone received candy, stickers, and a small fortune to unbox. In addition, team members decided to get small surprises to give to one another!
So, how are you celebrating 

this 

February 14

th

? 
Romantic candle lit dinner with a loved one? Or is it a time to poke fun at our traditions and instead gather – virtually – with friends? Let us know!